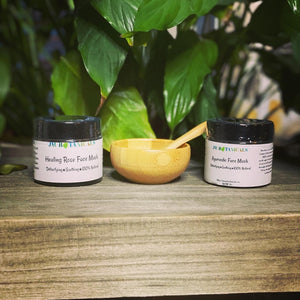 The powerful and 100% natural ingredients in our Ayurvedic Powdered face mask leaves skin feeling detoxified and smooth as silk.
An added bonus is this package contains 7-8 applications since you only need to use 1- 1.5 tsp per use a which is less than $3 per mask!!  
Ingredients: Bentonite Clay, Activated Charcoal, Turmeric powder, Essential Oil Blend.
To use : In a non-metal bowl combine 1.5 tsp of powder with 1 tbsp of distilled water and mix until smooth, apply to clean dry skin and let dry for 10-20 minutes. Rinse thoroughly with lukewarm water. Pat dry, tone and apply favorite nourishing moisturizer.
JMB formulas are always clean, ph balanced, suitable for all skin types and only made from the finest and most eco friendly ingredients.
Disclaimer: The statements presented have not been evaluated by the Food and Drug Administration. This product is not intended to diagnose, treat, cure or prevent any disease. For external use only. Keep out of reach of children. Avoid eye contact.