Elevate your daily routine with JMB's Shower Steamers
Experience the ultimate in relaxation and wellness with JMB's Shower Steamers, infused with the finest therapeutic grade essential oils. Elevate your daily routine with our premium Shower Steamers – the perfect solution for those seeking a quick yet luxurious spa-like indulgence, even amidst a busy schedule.
Shop Now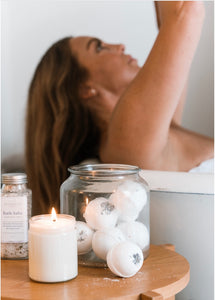 How ya doing??
Amidst life's hustle, prioritize you. Self-care isn't a luxury; it's essential. Take a breather, recharge, and glow from within. Our top-rated bath bombs, crafted with Epsom salts, sunflower oil, and therapeutic essential oils, turns bath time into a rejuvenating ritual. 🛁✨
Shop Now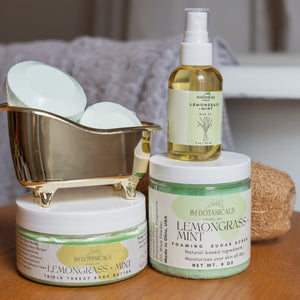 The Gangs all here!
Indulge your senses with our invigorating Lemongrass and Mint collection. Luxuriate in the soothing embrace of body butter and body oil. Elevate your shower with aromatic steamers, and exfoliate gently with whipped sugar scrub. A symphony of freshness and rejuvenation awaits.
Shop Now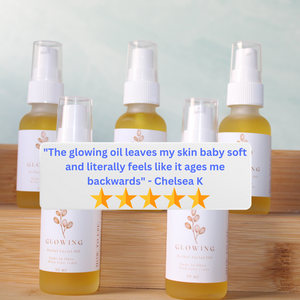 Glowing Facial Oil is a fan fav!! ✨
This super nourishing, fast absorbing blend is full of rich, moisturizing and healing ingredients like jojoba oil, the top choice for mimicking our skins sebum and turmeric oil to even skin tone and fade acne scars.
Shop Now
The Streets are Talking!
This facial oil smells soo good, I can't even describe! It leaves my face feeling so soft and moisturized too. I am officially in love with this product

Sami
I received my order the next day. I completed my facial and I'm satisfied with all of my products. No irritation or strong perfumes. They are perfect for my dry and very sensitive skin. Amazing experience!

Georgeann
We love these bath bombs so much!! They are mild enough for children and relaxing for adults. My kids ask for the specifically.
The lemongrass is the bomb....lol.
I store them in the linen closet....and it smells wonderful every time I open the door. Even my husband commented on the wonderful fragrance.

Alicia